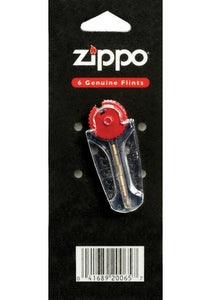 Zippo 6 Flints Plastic Dispenser
Zippo's genuine flints will keep your lighter working at optimum performance. Each flint card comes with a 6 Flint Dispenser.
6 genuine flints dispenser
Fits all Zippo windproof lighters
 How to replace the flint on your Zippo lighter:
Replacing The Flint On Your Zippo Flints are something that need to be replaced, approximately every few weeks for an average user. To replace the flint we need to remove it from the flint tube: 1. First, remove the inside unit (insert) from the case. 2. Turn it over and unscrew the flint spring using a small screwdriver or a coin. Slowly remove the spring. Tip: The spring is under tension so be sure it doesn't fly away. 3. Turning the inside unit (insert) right side up again, remove the remaining piece of flint, if any, by gently tapping the inside...

Instructions here: https://bit.ly/3f8fRIP
---
We Also Recommend